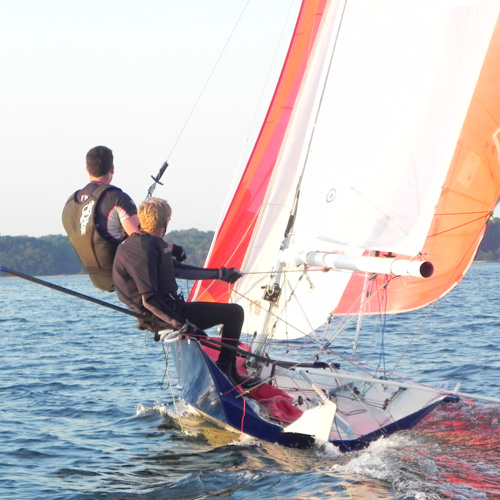 10 Feb

Ed Chimney

2014 High Performance Acorn

Ed Chimney started sailing at age 3 months. It was not until the age of 6 that Ed began racing on board a 40′ sloop. Ed spent the next 17 years crewing on One Designs, Universal, CCA, IOR, and PHRF rated yachts.

In order to earn money for college, Ed started a sail loft and built sails using molds. Ed graduated from college with a Physics/Math degree and later went on to earn his MBA.

In 1978, Ed bought the first Tartan 10, aptly named Imprimis. He campaigned her until he moved to Long Island in the fall of 1978. Years later, Ed purchased another Tartan 10, Impulse. Ed skippered and navigated her in the Western Long Island Sound circuit and other races including Storm Trysail Block Island Race, Block Island Race Week, the Vineyard Race, and numerous other distance races. Ed has participated in the Newport Bermuda Race eight times.

Ed was an active race committee member and chaired major events including the 1982 Tartan 10 Nationals. He served as a committee chairman for SCYC's Winter Sailing Program for 4 years and the Junior Program where he has been a member since 1980.

Ed is now currently learning how to sail a modern rules International 14 with his son. When Oakcliff created a High Performance Program, Ed jumped at the chance to learn more about skiff sailing and have the ability to be coached at a professional level. Ed hopes the amount of knowledge he acquired during the program will help him progress with his I-14.