Nonskid, August 9th David Rassmussen writes a brief update on the most recent boat project.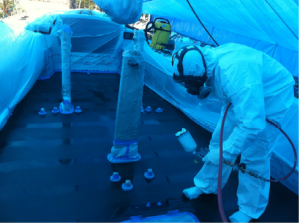 The nonskid project is nearly done! It was quite a feat.  We realized the need for new grip tape after Transatlantic race and had some free time to work on the boat here in Gosport at the Endeavor Quay shipyard.  The early discussions got a little heated as things can when you have six people with six ideas of how to get the same task done.  Then in the midst of conversation, just to make the topic even more fun to think about, the idea of doing the entire cockpit in red white and blue as an American flag was thrown out.  This was not taken lightly.  Within a day we had a sketch of Vanquish with a 24' star spangled banner in the cockpit.  I now know that the blue part of the American flag is exactly 40% of the overall length and that you could lay out the cockpit with thirteen one foot strips of nonskid to achieve a fairly accurate representation of the flag.  It wasn't the fact that we had to come up with a entirely new pattern, or that we would have to meticulously cut out each individual star that made us stay with the original pattern, the only thing that prevented the flag was the cost of materials.  With a bit more research and after digging through our supply of nonskid in the work container we opted to use grey skid and stick with a simple pattern.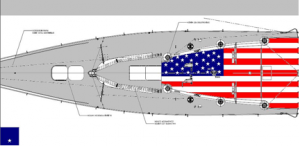 Six days ago we decided to stop talking about it and start doing it.  This was the best thing we could do.  Nate and I got up on the boat on the hard at the yard and started to pull up the old nonskid.  We were equipped with nothing but a hand full of different scrapers.  It didn't take long for us to realize that England's weather isn't warm enough for the nonskid to come up easily.  Nate being the "Nipper" and always happy to do whatever needs to be done ran down off the boat and got us power and a heat gun.  This was the beginning to a successful day of peeling.  It was reasonably easy at that point to finish the job in a day.  Nate did manage to get in a fight with the heat gun, and surprise, he didn't win.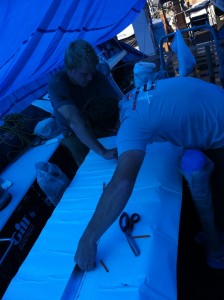 Five days ago with all of the non skid off it was time to start sanding.  We had to sand and re-clear coat the cockpit so that the stripes between our nonskid would shine.  We started the day off with a quick wipe down to make sure there was no glue left on the deck to gum up our sand paper.  At this point Matt and Molly joined Nate and me.  We started with a really rough paper and the four of us sanded for two entire days before we changed to a much finer grit paper so our clear coat would shine.  With all the sanding done it was time to get the dust out of the cockpit so we could begin masking.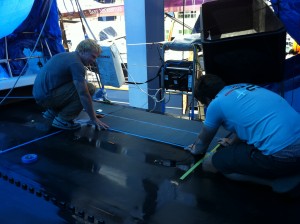 Three days ago we had a big day.  This was the day to spray the clear coat.  Matt and I started off the morning by driving forty miles to a store that had Awl Grip clear coat in stock while Nate and Molly finished up some detail sanding.  When the four of us were back at the boat we masked off everything and prepped the boat for painting.  Since it was both Matt's and my first time spraying clear we walked around the yard and got tips about how to mix the paint. We were given some good tips, such as adding a drop of black paint to tint the clear coat and help hide any blemishes, from the Rambler 100 team.  Matt and I took turns spraying until we got a solid five coats over everything.  Even with all our safety gear on we were exhausted and both had slight headaches and seeing as it was Sunday we decided to call it a day.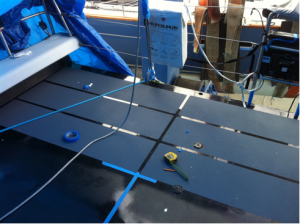 For the last two days we have been doing the tedious task of applying new nonskid.  Matt and I worked together to perfect a system of cutting peeling and applying for the first day.  Today when the entire crew showed up for our next race we we're almost done.  Molly and Katy joined us cutting  nonskid today to help speed things up and with a few more hours tomorrow the project will be complete.
~David Rasmussen
To see more pictures go to the All American Offshore Team facebook page