The Sapling program is Oakcliff Sailing's offering for sailors who are considering sailing as a career. In the summer long program, Oakcliff Sailing trains the sailors in all of the skills they need to succeed in professional sailboat racing.
2017 Saplings
Allyn Salomon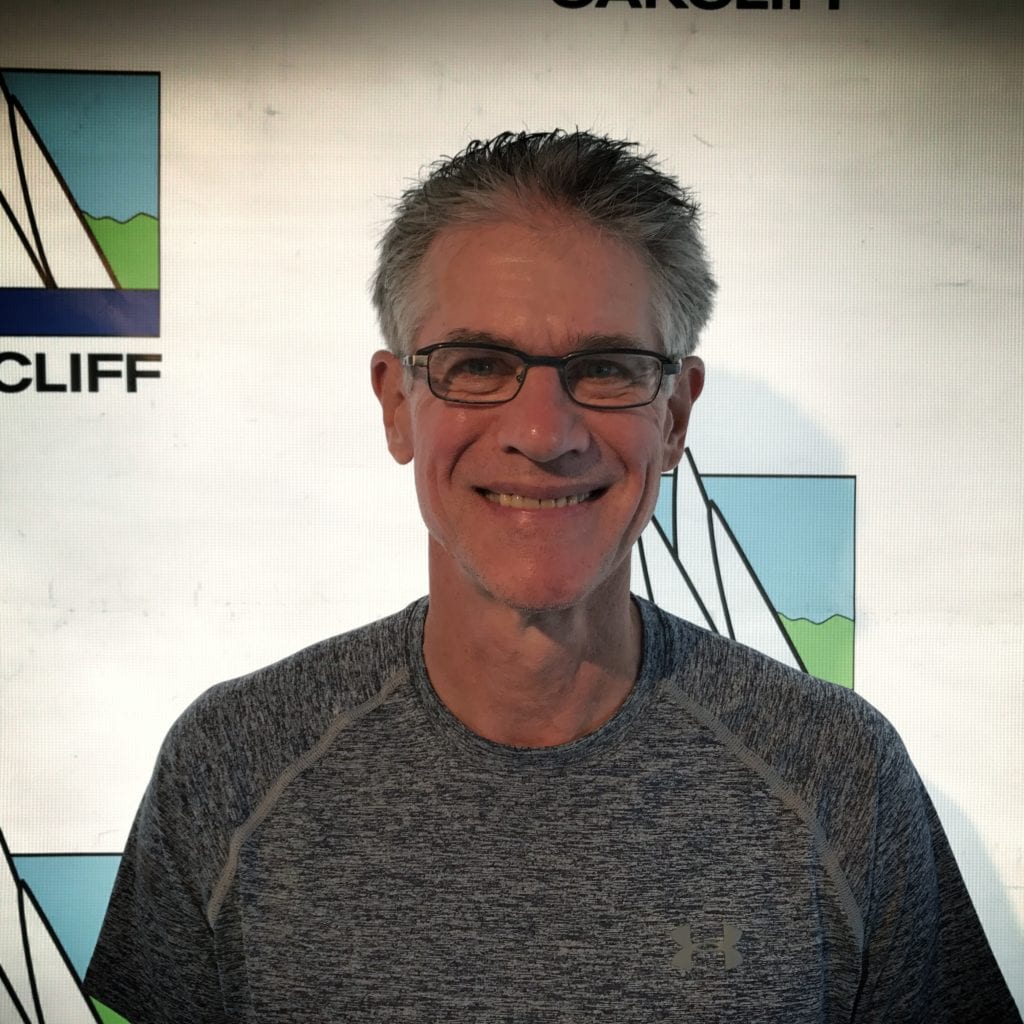 From the lifting of a jib to the dropping of a main, for some of us these events feed us through questions that arise in our minds and lead to the personal truths that make up the core of our character. My questions started when, as a little boy, I traveled to a nearby shipyard to share time with my father caulking between wooden boards on his double-ended sloop-rigged sailboat. That was followed in the summer months by cruises up the East Coast eating lobsters from a barrel for a dollar a pound in little restaurants in ports that were quite small in the grand scheme of things but of unforgettable importance as I started my life long relationship with the sea.
I grew up next to a marsh in a woods overlooking Long Island Sound through large picture windows and often walked to the beach along a dirt road through the marsh to watch sailboats racing past Execution Lighthouse, darting in and out from ports of call on Long Island, Westchester and Connecticut…day racing, cruising and, others, just out for the pleasure of a day sail. My dad was Rear Commodore at Knickerbocker Yacht Club in Manhasset Bay where his father had also been a member and that led me to Junior Sailing Classes there at the age of 8 and, later, for more of the same at Sea Cliff Yacht Club. I sailed in Blue Jays, Lasers and then in a Beatle Falcon…with all the clam bakes and race weeks that caused my early weekends in the boat yard with my dad to grow bit by bit into a lifelong love of sailing.
I went away to college in 1964 and worked as an advertising copywriter for 6 years in Japan, 2 years in Hong Kong, 2 years in Poland and 10 years in New York. When I returned to the US in 1990, I rekindled my love of sailing after an hiatus of 26 years with the purchase of a 23-foot Sonar.  I bought 2 more Sonars in the intervening 27 years, racing regularly in Manhasset Bay. After an even longer hiatus, I also returned to the pleasure of cruising of my early childhood with the purchase of a Beneteau 473 in 2013, which I  keep in Trinidad and sail in the Caribbean in the winter.
This summer I decided that, at age 71, I was still healthy and curious enough about improving my sailing to join 18 to 33 year old students as a Sapling at Oakcliff.  I've found that the best way to learn anything is by total immersion and Oakcliff gives me exactly  that…from studying rigging, sail trim, match racing, fleet racing, fiberglass repair, sail repair and everything else that brings sailing to life from 9AM to sunset. Like learning a foreign language that gives one the ability to enter into uniquely different cultures, Oakcliff has not only given me more knowledge about the world of sailing but also the satisfaction I have felt from the social, emotional and physical reality of the culture of competitive sailing.  
Ariel Nechemia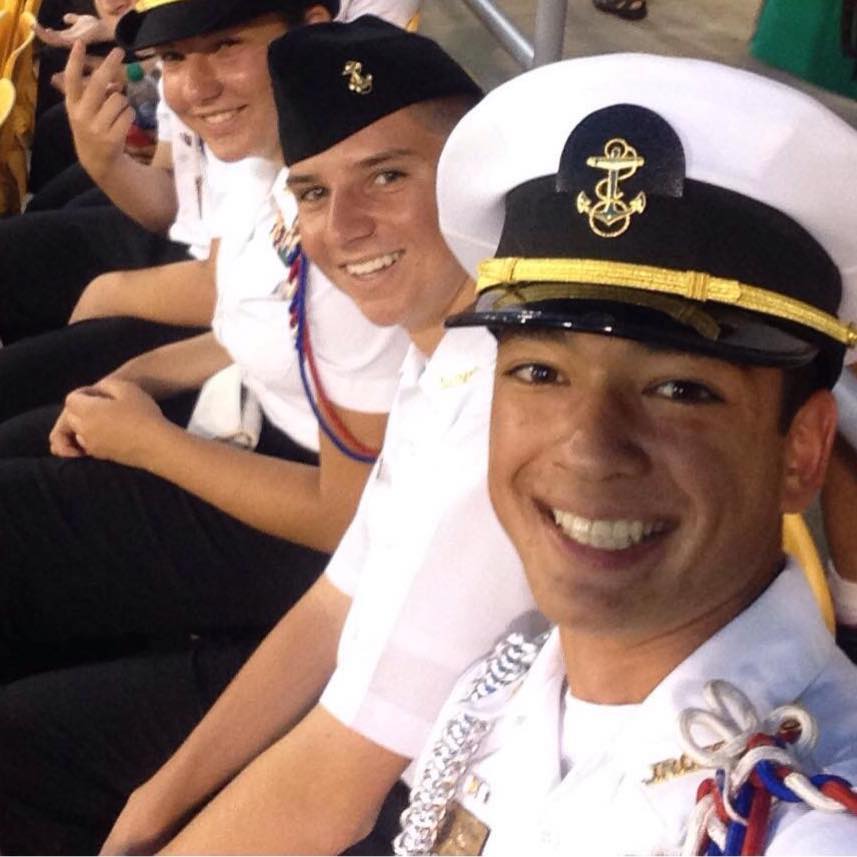 Ariel is a Chinese-American sailor who grew up in Beijing but now lives in California. Being raised in a family that couldn't tell the difference between a sailboat and a powerboat he didn't learn to sail until his High School Freshman year. He started at a Naval Preparatory Academy, where cadets must learn how to sail to graduate and become an officer. He has a variety of sailing experience, including instructing at Beijing Sailing Center, and attending Oakcliff's High Performance Acorn Program, which lead for him to eventually receive an offer to train with the Chinese Nacra 17 Olympic Team. He enjoys racing in all formats, no matter what type of boat it is.
Some other hobbies that he enjoys include writing and storytelling; he currently maintains several blogs, including the "Mens Sana Project."
He graduated high school and decided he wanted to do something great before attending college. He is going to attempt to sail around the world solo in order to raise money for the charity that helped his sister recover from brain cancer. Preparing for this ambitious undertaking is his primary motivation for becoming a Sapling here at Oakcliff. His dream of circumnavigating the globe is a long shot but the worst thing that can happen is that he fails and learns from it.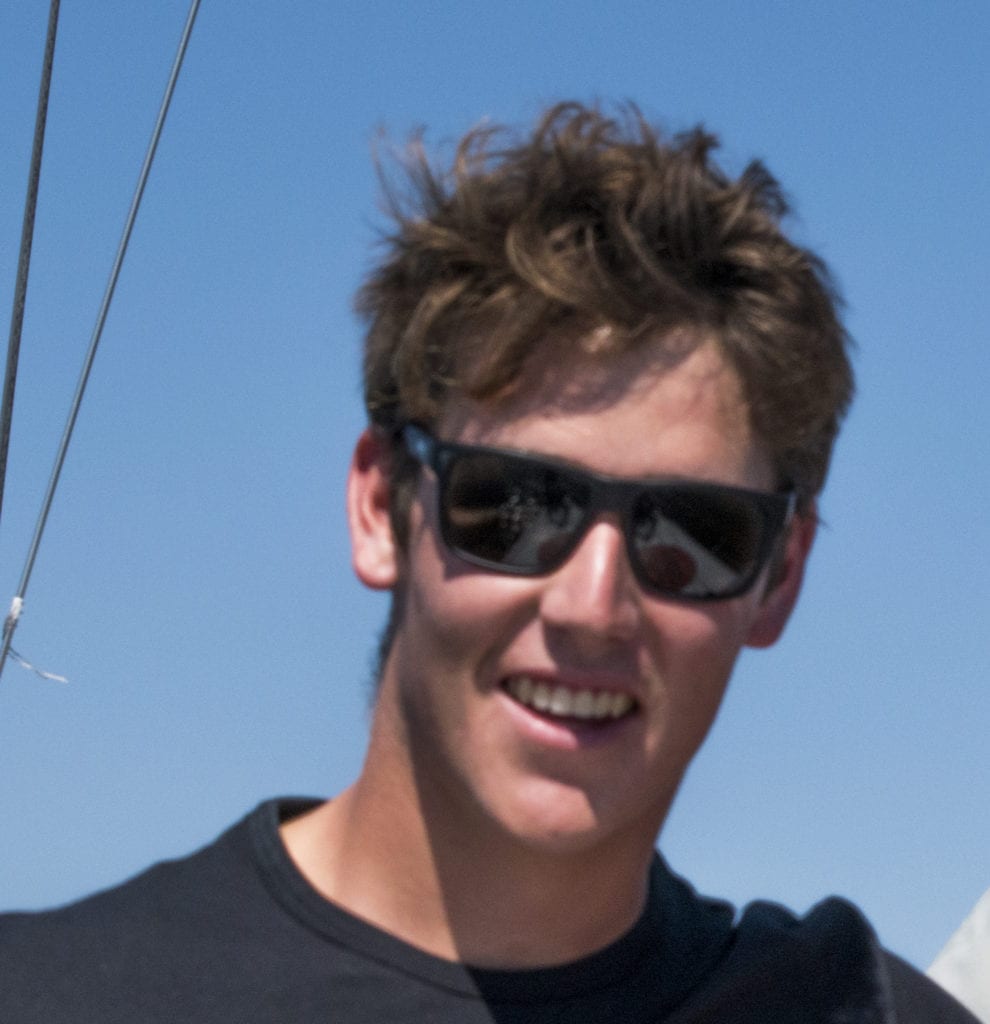 Harry Hall
Harry grew up on a little island in Pitwater called Scotland Islan; it's just north of Sydney, Australia. With some encouragement from his mother and a Spiral for his 10th birthday, Harry jumped headlong into the competitive sailing world. He quickly developed a passion for racing and soon graduated out of his Spiral into a Hobie 16 and then a Laser. His career really began to take off when he was admitted into the Prince Alfred Yacht Club's Youth Development Program, which took him to a lot of youth match racing events and even to some qualifiers for the World Match Race Tour. He's also done some one-design keelboat racing in MC38's and Harry graduated from high school in 2016 and is taking a gap year before he attends the University of New South Wales to study Engineering and Arts.
When Harry isn't sailing he enjoys hanging out with his hometown friends who would describe him as the silly one of the group because he tries to "save being sensible for when it's needed." His other hobbies include hiking, camping, and spear fishing.
His goals for coming to Oakliff are to expand his horizons and gain more sailing experience. In particular he has enjoyed going offshore with the Oakcliff Team.

Chris Holman
Chis was born in Oklahoma and raised in both Oklahoma and New Mexico, started sailing at an early age with the YMCA in Oklahoma City. He sailed a variety of dinghies and family-owned keel boats. He is a founding member of the Oklahoma City University Sailing Team where he competed at the local, State, National and International levels, including two appearances at the Course Croisiere EDHEC Regatta in France.  Following graduation, Chris moved to bigger vessels, including, but not limited to, J-24s and Hobie 33s.  He was fortunate to have a former America's Cup sailor as a teacher, mentor and friend. Chris has been employed in the sailing profession as an instructor, program manager, and harbor master with the Oklahoma City Boathouse Foundation. His goal at Oakcliff is to increase his skills and become a professional sailor.  Not to mention putting Oklahoma on the world-wide sailing map.
Isak Peterson
Like most young sailors, Isak started out sailing in Optimists. At his home club in Ephraim, Wisconsin, he transitioned to Flying Scots and was a sailing instructor, then director of the learn to sail program. Isak qualified for college nationals both as a sailor and as a coach at UW-Milwaukee. Most of his keelboat experience is from racing and cruising in Lake Michigan and Lake Superior on board the family Beneteau First 38.
At Oakcliff, Isak is excited to improve his match racing abilities and gain experience in high performance boats. Sailing will always be a lifelong sport for Isak and he aspires to make it a career.
2016 Saplings
Sean O'Halloran
Hometown: Santa Clara, California, United States of America  – see staff
Andres Guerra Font
Hometown: Barcelona, Spain  – see staff

Lau Busch-Petersen
Hometown: Copenhagen, Denmark
After high school i did not know what to study, so i took a 'few' gap years before making the big decision of what to study. I worked and lived in Copenhagen, traveling when i had money to spare, enjoying life while sort of 'getting some more perspective' on life before making up my mind. I think its nonsense to study something if you are not passionate about it.
While traveling I met this British sailor, we got along super well and he ended up spending a couple of months together. At the start of the Mediterranean sailing season he went back to Greece, but before he left he told me if i was bored I could come work with him. During the months we lived together he told me a lot about his job and the industry and it sounded like he had the coolest job in the world. So I went, he skippered, I hung out… 
After 2 weeks I figured I couldn't hang around my mates cabin forever, and I wasn't learning anything about sailing, but by this time my goal was to make a living sailing.
Not long after I found myself applying to a sail-training school in Denmark. 'School' was a square-rigged training ship from 1934. We slept 42 people in the same room, in hammocks, "shoulder to shoulder," for five and a half months. We sailed from Denmark up to the North Sea and around the Faroe islands before returning to Denmark to do the Tall Ships Race to Finland and around the Baltic Sea.
The job I got 2 years ago was on the tall ship "Stad Amsterdam." It's been pretty smooth sailing, sort of the old triangle from back in the days, winters in the Caribbean, springs in the Mediterranean, and America and then summer in the north of Europe before doing a month of shipyard in the Autumn and then southwest again. I have been really happy there, and I got good at it. The problem is that after 3 years on square rigged ships my learning curve has flattened out so I need to take on some new challenges.
There is a proverb that says 'if you can sail a square rigger you can sail anything,' I don't think this is true at all, on the big ships you look up and trim and trim (we have like 300 lines), but its hard to feel the immediate difference because we are talking a thousands of tons. So I am really looking forward to being on smaller boats, feeling the boat, and I know it will make me a much better sailor. I hope Oakcliff can be the catalyst to take me to the next level. 

Nikolas Nöetzel
Hometown: Kiel, Germany
I am 24 years old and I am a 2015 graduate of the University of St. Gallen in Switzerland. Before I studied business administration and economics down south amidst the Alps, I grew up in the beautiful and often stormy capital of the northernmost German state called Schleswig-Holstein. While my grandparents live in Washington State, I have spent most of my childhood in Germany. 
When it comes to sailing, it was my parents that lived the sport before my eyes, so I got my first experience at 7 years old in the Optimist. One of the club boats I sailed was especially old, still the wooden type, and it was named Christopher Columbus. I'm not sure why, but I always liked that one (Maybe a hint towards an offshore destiny?). After the Opti I transitioned to windsurfing until I was 18 years old. I always kept sailing for leisure, but not in regattas. In windsurfing I was named into the state squad for race windsurfing, however I always preferred the freestyle type and after a while I stuck with that.
My motivation for sailing around the world one day is very hard to pinpoint, I just know it's there. For sure I want to prove something to myself, that I am capable of successfully doing it. But there is also a very deep connection to nature and the ocean that makes me want to get to know it in a way only a handful of people have done. I believe that my goal would be to actually learn about the current state of the ocean and to then carry a message around the world that is a call for action to preserve what we as humans were so lucky to receive for free – our beautiful planet. Partnering with a really strong cause and then using my experience about the corporate world to acquire the financial backing is something I want to bring along to Oakcliff and try out together with others who are just as motivated. 

Christopher Ross
Hometown: Enfield, New Hampshire, United States of America
I grew up a lake sailor in Enfield, NH at the Dartmouth Sailing Club. I always considered being on the lake a point of pride. Growing up I was super fortunate to have incredible coaching from Dartmouth Sailing Team members. I was and still am a dinghy sailor in the Laser and Laser radial classes. Years ago I went to the 2008-2009 Volvo Ocean Race stop in Boston and ever since then I have been in awe over racing around the world. And I dreamed of owning a large boat to sail on the ocean with. In 2015 my wife and I purchased a 36′ sailboat and with that I really became addicted to ocean sailing. Every winter I love to "couch sail" following all the big distance races.
There is one big difference for me that I never shouted about, I have Cystic Fibrosis. In November of 2015, I lost my identical twin brother and life sailing companion, Michael. The pain is still indescribable some days but I have decided to channel this energy and pursue my life dream of sailing the world's biggest oceans. Michael would surely be so proud and I want to keep his memory alive through my sailing efforts. He has a amazing story to tell and I want to share it. Many of our greatest moments almost all revolve around boats! My goal now and my reason for pushing to sail at Oakcliff is that I want to become the first sailor in the world with Cystic Fibrosis to circumnavigate the globe. 

Karine Jansen
Hometown:
Haarlem, the Netherlands
I started sailing when I was about 10 years old, I had saved all my pocket money to buy a little sailing dinghy.  I went to different sailing clubs and schools and became a sailing instructor when I got older. At some point I went sailing almost every day after school and the weekends too off course. I did some local racing in my Laser radial, but sold it at some point so I could buy a ticket to Svalbard and sail back along the Norwegian coast to the Netherlands. After high school I took a gap year to work as a deckhand on a traditional Dutch flat bottom ship sailing with 30 passengers around Holland in the summer and sailing a classic wooden yacht in the winter. As I loved boats and sailing so much I decided to study Naval Architecture and did internships at offices designing (sailing) superyachts.
However an office job did not satisfy my sailing and traveling addiction enough, so now I am working as a quartermaster on board a full rigged ship, Stad Amsterdam, 6 months a year. The other half of the year I am either working as an officer on a sailing expedition vessel, going to colder areas like Antarctica or Svalbard, or I am just traveling.
My last travels brought me to New York to meet up with Lau, another Sapling. He is a good friend from the Stad Amsterdam and we decided to go skiing in Vermont. We took a trip there with friends from New York and they told us about Oakcliff. Lau got really excited right away so he went there to have a look, and it looked like a really cool place. Going out to sail a lot and learning how to race different kind of boats sounded pretty nice. Also to learn about the maintenance and doing a lot of exercise. So a couple of days later I went to see for myself and it does look really cool. Unfortunately I already had an appointment on the Anne Margaretha to sail to Svalbard, so I can only join the program in July. But I am very much looking forward to it! 

Stuart Macintosh
Hometown: Halifax, Nova Scotia, Canada
Sailing has been one of the few things to peak and keep my interest in the past few years, I love everything about it. From actually competing to the planning necessary to be successful.
This past year has been (2015) has been a year of firsts; first time offshore, first time in the caribbean, first offshore race, first time in Europe and many others. In this past year I have racked up over 1500 delivery miles, over 4000 offshore racing miles, crossed the Atlantic Ocean, rounded Fastnet Rock, broken two masts, and made friendships that will last a lifetime. But I feel this is just the beginning.
The biggest thing that motivates me is what I have already done, here is why: if you had told me in December 2014 everything that I would do in the coming year, I would not have believed you. I went from reading and dreaming about events to competing and placing in them. This has proved to me that the only limits you have are the ones you set for yourself. I have been lucky with the connections I made but I have also worked my arse off to get where I currently am. If this is what I can achieve in one yea,r I can't wait to see what my future may hold.
Travis Carlisle
Hometown: Madison, Connecticut, United States of America
Since I was born, I've been in and around boats. Both my mom's side and my dad's side have been involved in the sailing community. At 14 my dad put me into a summer camp in Essex, Connecticut that had a racing team. I had been involved in sports all my life: soccer, football, baseball, lacrosse, and even squash.  So I figured I would have more fun if I was competing instead of just sitting in a boat all summer. After the summer was over I was hooked. I started doing clinics and even joined the sailing team at my high school. I didn't make the team my freshman year so I all summer I practiced and went to as many regattas as possible to get myself prepared for the high school season. This was tough because I also had to do my football workouts as well seeing as I was on the football team. I ended up making the team my sophomore year and was a starter after the first day of practice. I started from that day and continued all the way through graduation. My biggest sailing accomplishment in high school was our qualification for team race qualifiers.  Although we never got to go because it was in Rhode Island and we couldn't raise the money and half the team did not want to go.
 After I got accepted to Old Dominion I didn't know if I was going to make their sailing team as a walk on and was ecstatic to hear that they would take me on the team. I ended up being the heavy air crew for our A divsion boat my freshman year after working hard every day at practice to ensure I could stay on the team.  By the second semester of my freshman year, my skipper left school and I ended up not sailing in too many big regattas after that. I had to put my nose to the grindstone and work hard to get back to where I wanted to be. Over spring break I dislocated my shoulder and had to sit out three weeks of sailing rehabbing that. I came back towards the end of the season and got to skipper a regatta at ODU and finished second overall and first in my division. Sophomore year, Fall semester I didn't finish a regatta less than 5th place. I ended up leaving school after the spring semester to go sailing to the Caribbean and then after that decided that I wanted to go back to competitive sailing because that's what I really want to do.
I heard about Oakcliff through some of my friends at ODU and my dad told me about the sapling program.  I knew that Oakcliff was a very well put together sailing program and has some of the best coaches and sailors in the US there. I am very excited to have been selected to this program and will be one of the most dedicated students at the program. My end goal will is to be one of the best.
2015 Saplings
Ivy Binns
Growing up in the San Francisco Bay Area, Ivy was constantly immersed in water activities, but only took to sailing in 2007.  After learning the basics  in El Toros, she joined the Peninsula Youth Sailing Foundation, a high school sailing team, and has been competing ever since. Her sailing path has spanned a multitude of classes, from high school dinghies to competing in the US Women's Match Race Champs in San Francisco and Chicago.
When not sailing, Ivy is studying Business Administration with a focus in Marketing at California State University, Monterey Bay, working with kids at an afternoons homework help program, or spending time with her family in the Tahoe area. She is also getting ready to spend her next academic year in Frankfurt, Germany.
Ivy's goals for the summer include refining her match racing skills, expanding her offshore experience, and fine tuning her repair skills.
Conrad Volle
Conrad Volle, 23, grew up sailing on the choppy waters of the Great South Bay at Wet Pants Sailing Association, a club founded by kids who couldn't afford to join a yacht club. Inspired by the spirit of camaraderie and independence, he worked to develop his skills as a sailor, racing Optimists, Sunfish, 420s, and Flying Scots. As Wet Pants' racing coach, he found his stride coaching, planning the logistics of getting kids and boats to regattas, and packing the perfect snack bags. Conrad comes to Oakcliff with very little offshore, match racing, or even keelboat experience, but he hopes to fully explore all of the opportunities Oakcliff has to offer, on and off the water.
Austin Colpaert
SapGrad 2015
Austin "AC" Colpaert began sailing at Bayview Yacht Club in Detroit, Michigan when he was six on a custom Express 37. He started Match racing at age 9 and has since then grown up on the Bow. Sailing Farr 40 and Turbo 1d35's, AC has chosen to sail with Oakcliff for the past two years to improve his` skills. Austin recently sailed in the Ficker Cup in Long Beach against a mass of international talent. His goals are to be a bowman in the World Match Race Tour or the Volvo Ocean Race and to pursue a career as a rigger.
Alec Caterson
Alec grew up sailing Sabots in Redondo Beach, California and moved into Lasers and FJs  later on in his junior career. Soon moving into keelboats, Alec started in the Melges 24 and took up positions with teams in the Melges 30 Farr 30, Farr 40, and Viper 640 classes. Alec worked for Hyde sails and is now currently a student at UCLA studying civil engineering and still competes in many One Design Keelboat classes. He is planning to sail the 2015 Farr 40 Worlds and aspires to sail on the TP52 or MOD70 racing circuits.
Kat Shiber
Kat Shiber (AKA Shbezy/ Helmet Girl) learne to sail Optis and Picos at Nyack Boat Club when she was 8. She then raced Lightnings and Sonars later in her youth career. Last summer she began Match Racing at Oakcliff and currently races 420s for the Hotchkiss school. her goals are to compete in college sailing, The World Match Racing Tour, study Mechanical Engineering, and work on boats for the rest of her life.
Jacob Henley
Jacob  who was with us in 2014 has returned in 2015 and is sailing any time he is not sleeping and that says something as we are not sure he actually sleeps.  Jacob also is the 1st mate on the Ker 50 Temptation. Jacob not Jake, but will forever be called Jake, grew up in Gaylord, Michigan. He learned to sail at age 14 out of Harbor Springs, Michigan and would bike ten miles each day to participate in the summer program there. Jacob is studying Chemical Engineering at Michigan Technology University where he is also the club sailing team's race director. Jacob's love for discovering how things work and sailing led him to join the Oakcliff team. He hopes to use the opportunity to learn as much as he can during his time at Oakcliff. Jacob's goal for the summer is to log several offshore miles in hopes of doing more long distance sailing in the future.
Colin Kennedy
Colin Kennedy has returned for his third year as a Sapling and is one of the most valuable sailors on the Oakcliff team.  Colin Kennedy grew up sailing on Long Island Sound.  Ten years ago he began sailing Optis at Port Washington Yacht Club and transitioned to the larger Laser class in 2008. During his Laser career he sailed in sail 2 world championships, 3 US Youth Championships, 1 US Men's Laser Championship, Miami Olympic Classes Regatta, and 2 High School Singlehanded Nationals. This past year, he completed his first year at George Washington University sailing but also studying to become a Mechanical Engineer. At Oakcliff, Colin was the youngest Sapling in 2013 and is back in 2014 focusing on match racing. He won second place at the Oakcliff Youth Clinegatta  2013 and is looking for the gold in 2014.  In the future he wants win the College Match Racing Championships and eventually graduate to the  World Match Racing. Colin is very excited to be back at Oakcliff and is looking forward to everything the Sapling program has to offer from match racing to sailing the Olympic catamarans the Nacra 17 sailing.

2014 Saplings

Avi Lessman
Avi has always had an appetence for anything water related. His summer days were filled with competitive swimming and lazy days at one of the South Shore beaches. Around 12 years of age, Avi's mother added a sprinkling of wilderness by adding canoe tripping in the woods of Maine and Canada to the mix. Avi paddled his way down rapids, lit fires in many a deluge, and portaged miles and miles.
It was only recently, at the age of 23, that Avi discovered sailing. The story includes a Blue Jay, a squall, and fellow sapling Doug Reynolds.  His days are now spent preparing for his career as an English Teacher by studying at LIU in Brookville and racing on any boat he can step onto. To him, sailing is a coalescence of the best things in life: tests of strength, tests mental agility and acuity, practice and dedication, and the natural elements.
Avi is looking forward to tacking advantage of every opportunity Oakcliff will offer his way. Avi has since joined the staff at Oakcliff using his Education to assist in the training programs.
2014 Saplings

Christian Langalis
A proud native of Rowayton, Connecticut, Christian made his first memories sailing on Long Island Sound.  Beginning with Atlantics at Cedar Point YC and dinghies at Norwalk YC, Christian was soon enthusiastically pursuing all types of sailing: fleet, match, team or simply cruising.  His zeal for endurance racing as a marathon runner and competitive rower has now steered him towards ocean racing. He came to Oakcliff to gain more offshore experience, with intentions to ultimately tackle the Transatlantic, Fastnet, Sydney-Hobart, and other offshore trials. All the while, he'll be honing his seamanship to fulfill his highest aspiration: solo-circumnavigation. When he disappears one day, you'll know where he went.
Christian attends and sails for Colgate University, where he studies Economics and Mathematics despite having a passion for nature and the arts. Update 2015: Christian is currently racing transatlantic.
Brandon Yuen
Brandon grew up in Windsor, Ontario, Canada where he learned to sail 420s during his summers on Lake St. Clair. His parents thought it would be a great alternative to staying at home with a babysitter. Brandon now attends the University of Southern California in Los Angeles. He majors in Business Administration with an emphasis in Data Sciences and Operations and is member of the university's sailing team.  His college experience has taught him to embrace his "fly by the seat of his pants" personality and to find fun in every aspect of life. He hopes to bring USC success in match racing this fall. Besides racing on collegiate FJs, Farr 40s, and Catalina 37s, he likes to dabble in urban golfing, acting classes, ballroom dancing, country music, and pickup trucks.
His career aspirations include international yacht logistics and professional sailing team operations in hopes to sail in Transpac and Sydney-Hobart in the near future.
Parker Lyman
Parker Lyman caught the sailing bug when he was 5 years old at the Stage Harbor Yacht Club in Cape Cod in Massachusetts; his passion for the sport only grew from there. After his family started spending summers in Maine, Parker started to perfect his sailing and learn to race in 420s at Castine Yacht Club in Castine, Maine. He was first exposed to big boats at the age of 12 on the 46-foot S&S designed ketch Mermaid. In 2011, Parker participated the Marblehead to Halifax race earing 2nd in class and 3rd overall in PHRF. It was during this race that Parker fell in love with offshore racing and was inspired to participate in more offshore races. When Parker docked in Halifax, he learned of Oakcliff after docking next to the Kerr 11.3.
Since 2012, Parker has been heavily involved at Oakcliff. Parker began as an Acorn and then made the transition to Sapling in 2013. This year, Parker is back as a Sapling and looking forward to enhancing his knowledge in all aspect of the sport.  Parker's goal is to manage a professional sailing team one day and finally have a Sapling bio this year. Update 2015 Parker has become a core of the Victory 83 12 Meter team.
Charlie Lalumiere
Charlie Lalumiere grew up sailing at Portland Yacht Club in Portland, Maine. After jealously admiring his brother and sister for sailing, Charlie started his sailing career in the Optimist dinghy at the age of 7, despite the age requirement of 8 for the Junior Program at PYC. Charlie soon joined the optimist race team and became mesmerized by racing. At the age of 14, Charlie transitioned to 420s. He enjoyed the team atmosphere of the 420 team and using the spinnaker and trapeze. Through his 420 teammates, Charlie was introduced to youth match racing. After competing in the Rose Cup, Charlie has continued to his match racing career after competing in another Rose Cup, the Governor's Cup, and the Harken Youth International Regatta in Auckland, New Zealand.
Charlie is a rising sophomore at Dartmouth College where he is a member of Dartmouth's sailing team and Economics major. Charlie hopes that his time at Oakcliff will further his match racing skills, so he can help form a strong match racing team for his college. Charlie is also looking forward to sailing 49ers and other high performance vessels at Oakcliff. Update 2015 – Charlie is currently doing a summer semester and at the same time planning on competing in the next Red Bull Youth America's Cup.
2013 Saplings
Sarah Ragle
Sarah Raglewas born and raised in the mountains of Colorado where she learned to sail on Lake Dillon in 2005. She has raced very actively in the Dillon Yacht Club J22 and J24 fleets since then. Further afield, Sarah has raced in the J24 Nationals, North Americans and World Championships. She also raced in Key West Race Week, as well as Charleston Race Week in 2013 both on Swan 42′s. Prior to Key West Race Week, she competed in the Ft. Lauderdale to Key West Race, as her first time offshore.
With sailing in her blood she is looking forward to a great summer at Oakcliff, and in fact in her first week she had a new experience – she drove a truck for the first time – much to the amusement of her teammates who figured that was de rigueur for a sailor from Colorado.
Elizabeth Shaw
Elizabeth is Canadian; let's start there. She's a Canadian who is addicted to sailing, adores her dog Dodger, speaks three and a half languages, likes shiny things, digs real estate and loves being cozy.
Her sailing career is diverse. She competed abroad in the International 470 class, raced One Design and big boats in Australia, instructed and coached under the RYA schemes in England, handled communication strategy for an Open 60 team in France and has racked up over +10,000 coastal and ocean miles over the years.
Elizabeth spent 3 years working as the Director of Sailing/Race Director at the Royal Nova Scotia Yacht Squadron; her home club in Halifax, Nova Scotia. During that time she gained a wealth of experience in race management which uncovered a new passion leading her to become certified as Canada's youngest National Race Officer. She is currently Vice President on the Board of Directors for the Nova Scotia Yachting Association.
Elizabeth looks forward to a season full of adventure and excitement with the Oakcliff family.
Charlie Singer
Charlie Singer was born in Baltimore, Maryland, but actually learned to sail in the Outer Banks of North Carolina at Camp Sea Gull where he was a camper and counselor for 10 years. With 10 years invested he doubled down in high school, working many jobs in order to buy his own Laser and Vanguard 15. His racing career moved to the sailing capital of the world, Annapolis and here he heard about the Sapling program
He applied was accepted and arrived at Oakcliff ready to grab every opportunity. In the first two weeks he reports he's having a blast and learning a ton. After finishing his business and architecture education at Tulane University where he is going to be a sophomore, he fully intends to combine his formal education with sailing in some way or the other in his future career. The laid back and enthusiastic kid with a bit of a drawl and a twinkle in his eye is ready to lunge at any and all opportunities that walk by.
Jarett "Jake" Arcand
Jarett "Jake" Arcand grew up sailing in Scituate, MA. He has been sailing since he was born, his father even gave him a tour of the family's J-30 before bringing him home from the hospital. After moving to Hawaii where he attended the University of Hawaii at Manoa and received a degree in business management, he now works at North Sails Hawaii. He has helped run and campaigns several successful racing programs in Hawaii. Here at Oakcliff he is developing the skills to maintain and manage high-end racing programs.
Career highlights include Around Oahu 1st overall, Lahaina Return 1st overall and in class, Transpac 3rd in class, SD-PV 1st overall and in class, Round Block Island 1st in class. Jake has +12,000 ocean miles and is excited to be sailing on the East coast for the summer (despite the heat and lack of tradewinds).
James Downer
James Downer grew up sailing on the Fire Island side of Great South Bay, nearly due south of Oakcliff. Beginning in Optis and moving to 420s, James continued dinghy sailing through high school at Tabor Academy. Since then he has been looking into larger boats from a winter aboard SSV Tabor Boy, a 92 foot iron pilot schooner, to fleet racing and match racing in a variety of sloops. He currently sails at Tufts University where he is studying International Relations and Computer Science and plans to spend his summer broadening his match racing and offshore experience.
John Colburn
As a child of Vermont, John Colburn needed summer escapes to the coast of Maine in order to satisfy his love of the water. From a young age he regularly visited his grandparents for the chance to race Sunfish with his cousins. When choosing a path after high school, Colburn opted for a school that would accommodate his love for getting on the water.
Colburn enrolled at Maine Maritime Academy to study small vessel operations and small craft design. While there he also found time to race keel boats as a part of the sailing team and explore offshore sailing. When the temptation became too great, he took on role of Watch Leader on the Clipper Round the World Race. While onboard he helped lead the crew of CV2 New York third place on two of the legs.
The Clipper adventure helped reinforce John's belief that his forte is versatility over specialization. At the same time he is looking forward to adding the specialty of match racing to his skill set.
Patrick Murphy
Patrick Murphy grew up sailing with his family in South Eastern Connecticut's Fishers Island Sound appropriately, aboard their Fishers Island 24. From a young age he developed an admiration for the sport and tried to sail on any and every boat he could. Wanting to pass on his love of sailing he spent 7 years teaching sailing to both younger and older students. While attending the University of Connecticut he sailed sloops and lasers on the Connecticut River.
Patrick says he not only enjoys sailing because of its competitive nature but because of the people he meets, the interesting places it has sent him and what it has taught him about himself. We are still waiting for these stories but we are sure they will be entertaining.
Patrick delivered and campaigned many boats and ran the Jon Muri 65 Mischievous for the Newport Bermuda race and cruises around Fishers Island. When the season was over he got a job with Grice Marine painting and repairing fiberglass boats and expanding his marine skill set. Pat came to Oakcliff to further develop his sailing and yacht management skills and plans on getting his captains license upon graduation.
Max Vos
Max Vos is an 18-year-old law student from Sydney Australia who grew up racing dinghies and yachts (Australian for Sailboats) from a very early age. He has competitively raced tp52s, Farr 40s, and other custom racers such as the R/P 63 Loki on the Australian yachting circuit. While being a part of numerous professional teams he has also juggled dinghy racing campaigns in the laser, where he made gold fleet at the 2011 world championships, and Hobie 16's where he came 2nd at the 2012 youth world trials.
After winning regional, state and national titles in Australia, Max is looking to build up strong contacts in the United States that he can race with in the future. He notes; "Oakcliff is a great place for me to develop my skills as a sailor, professional and person, the opportunities that they present to me are tremendous". With this in mind Max has ambitions to sail in the Farr 30, Farr 40 and Melges 24 World Championships and further develop his skills as a sailor.
Max will now spend the summer training hard on Oyster Bay before heading over to San Francisco for the Americas Cup. After this Max hopes to finish his Commerce and Law degree at the University of New South Wales, and launch a self funded 49er Olympic campaign. 2013 is a great year for US sailing and he is very happy to be a part of it.
Allison (Allie) Gray
Allison (Allie) Gray, 22 grew up in Clearwater, FL where she was always on the water. Not only on sailboats but also aboard her grandfather's tugboat named after her great grandfather Clark Mills. Mills the designer of the Optimist Pram. Not surprisingly, she began racing Optis at 13, moving on to Lasers. Allie also coached sailing in Ft. Myers for close to 9 years.
In high school she was fortunate enough to participate in three, adventure filled, crossings from Roatan, Honduras to Ft. Myers, FL as well as countless trips to the Dry Tortugas off the coast of the Florida Keys.
She continued sailing at the University of Florida, studying Spanish and Pre-physical therapy, and served as the President of the club sailing team. The "scrappy" sailor was offered the opportunity to attend the Korea Cup International Yacht Race in the summer of 2012, following her junior year at UF. She did not take kindly to the title of "rail meat" and found herself invited back in 2013 as a skipper due to her tactical intervening (meddling) in 2012.
At Oakcliff, Allie hopes to further her knowledge of offshore racing, build a stronger base in sail making and learn how to cope with the chilly northeast coast. Her future goals include racing professionally, working with disabled sailors and children to help spread both the community and independence that sailing can provide.
Hobie Ponting
Hobie Ponting, 22, a recent graduate from the University of Wisconsin-Milwaukee, has been sailing for over ten years, but it wasn't until recently that he began competitive sailing. Learning to sail on catamarans and quickly moving onto big boats mixed in with college dinghy sailing created accelerated learning curve.
Having the opportunity to sail with many talented sailors based out of the South Shore Yacht Club in Milwaukee, including previous professional sailors Scott Bruesewitz and Tim Kent who sailed in the 2002/3 Around Alone Race inspired Hobie. These mentors also gave him a nudge to pursue his dreams of sailing professionally.
Hobie enjoys sailing on focused and competitive teams but is also fascinated with the concept of solo sailing and spent last summer working on the intricacies of shorthanded sailing. With a goal of a solo Lake Michigan crossing and participating on other Lake Michigan Singlehanded Society events, Hobie started training in Ynglings but plans to move up to a J-35 for the actual racing, a smart move as anyone who has actually sailed a Yngling would attest to.
2012 Saplings
Jonathan Hammond
Jonathan began his involvement in sailing at a very young age, but he didn't do much more than cruise around in a Sunfish and experiment with trial and error self-instruction. Those early days were on the cool waters off the small town of Alexandria Bay, on the St. Lawrence Seaway.  That all changed January of 2007 when he and his parents moved to the much warmer climate of St. Thomas, USVI.  There, Jonathan was an active participant on the Antilles High School Sailing Team, where he was introduced to fleet and team racing in dinghies.
Shortly thereafter, Jonathan fell in love with offshore ocean sailing during a delivery of the Schooner Alliance from Grand Bahama to Cape Charles, VA. Jonathan continued to develop his love for offshore sailing and was introduced to offshore racing as a cadet on the Coast Guard Academy's Offshore Sailing Team. Jonathan, now looking to start a career and life path in sailing, has joined Oakcliff as a Sapling. Here he will continue to hone his skills in an effort to achieve his dream of becoming the youngest person to win a solo around the world race: the next Velux 5 Oceans in 2014.
Andrew O'Donnell
Andrew O'Donnell (OD) grew up on a horse farm in a rural upstate New York. Though he was helpful around his mother's farm, he didn't pursue a riding career. Instead he began racing downhill mountain bikes. At twelve years old he bought his first car and created a rally track around the family farm. A competitive nature was instilled from an early age by his parents and friends. Once in high school he competed on the varsity rowing team and was recruited to a college rowing program where he and his teammates won silver at the Intercollegiate Rowing Association regatta.
OD was introduced to yacht racing after college. He knew after his first race that this was the sport for him, as it intertwined logic with physical ability. He began as a grinder aboard 12M Onawa and used his grinding ability to gain spots on other boats. OD found his real niche working for a performance yacht service company in Greenwich, CT, run by Onawa's tactician. He would work, maintain, and race on (or against) boats out of Indian Harbor, Riverside yacht clubs. He continued learning about rigging, race bottoms, and acquired a fine eye for detail while working. OD is looking forward to learning and developing his offshore racing skills at Oakcliff.
Collin Weston
Collin Weston grew up sailing with his family on lakes in North Texas. At age 10, he began racing Optis on the junior circuit of the Texas Sailing Association.  As he grew older, he raced Sunfish, Lasers, and 420s and started his own high school sailing team to get more time on the water. After high school, Collin attended the College of Charleston in South Carolina, where he sailed on a wide variety of keelboats and dinghies and practiced in a difficult venue.  Currently, Collin is entering his senior year as a Maritime System Engineer at Texas A&M University at Galveston, where he is captain of the varsity sailing team. After college, he intends to continue his education with master's work in Naval Architecture or Yacht Design. Ultimately, Collin hopes to use the skills he learns at Oakcliff to race in the Volvo Ocean Race.
Ervin Grove
Ervin "Swerv" McGiver Grove grew up in Knoxville, TN. He was introduced to sailing at a young age through a local yacht club's summer sailing program. Growing up he took every opportunity to go sailing, no matter who with or what kind of boat. His innate drive to compete flourished late in middle school when he started sailing Thistles and was fostered by joining the high school sailing team. While Ervin still claims the Thistle is his first true love, he has expanded his sailing experience with blue water deliveries, 49er sailing, and running the University of Tennessee Sailing Team for two years. Having just graduated in May 2012 (congrats!) Ervin is learning as much as he can about sailing and fixing big boats. His goal is to compete in the Atlantic Ocean Series in 2015.
Soloman Krevans
Raised in Bethel, Alaska, Solomon started racing when he moved to Maine and joined the Mount Desert Island High School Sailing Team.   A two time state champion Solomon is now a rising junior, sailing for the Tufts University Jumbos.  At Oakcliff Solomon is looking forward to expanding his offshore & match racing experience.
Brock Kraebel
Brock Kraebel was born and raised in Southold, a very small town on the North Fork of Long Island. Having spent every minute of his childhood summers on Peconic Bay, Brock took naturally to sailing at age ten. He quickly moved from Sunfish to club 420s. He was also learning to race small keelboats with the Peconic Bay Sailing Assoc. In 2007, Brock left his beloved island to study mechanical engineering at the University of Southern California, in Los Angeles. At USC, Brock sailed on the varsity dinghy, sloop, match race, and team race teams. He has won Pacific Coast Championships in the coed and sloop competitions and attended two national championships. For these accomplishments he was voted on the All-District team his senior year. Brock is currently focusing on shorthanded distance races in beach catamarans and on "One Ring Circus", a Quest 30. The "Circus" has given him a lot of experience offshore in Block Island Sound. Brock is also bowman and team mascot aboard Oakcliff's Ker 50 for summer 2012. He enjoys scaling the rig, especially in thunderstorms.
Brendan Larrabee
Brendan started sailing when he was eight years old, dodging tanker traffic in Boston Harbor at Courageous Sailing Center. Seeking a little more variety he moved to Community Boating and started racing 420s and lasers. During his summers Brendan split his time between junior sailing and competitive yo-yoing. He was ranked 30th in the world and holds two world records.  Brendan was the captain of the Brookline High School sailing team and led the team to win the Massachusetts Bay League Championships. Looking for faster, more exciting boats, he started racing Viper 640s in Marblehead and was introduced big boat sailing on a J130, which started his love of distance racing during the Marblehead to Halifax Race.  Brendan continued racing big boats at St. Mary's college on the offshore team. In order to keep keep the college boats running Brendan learned sailmaking by interning at Piranha Sails.  Brendan just graduated (congrats!) from St. Mary's College where, in addition to sailing, he perfected his French. After Oakcliff he would like to move to France to work as a preperateur de voile on class 40s and open 60s, race the Tour de France à la voile and do shorthanded offshore racing.
Chris Kennedy
Chris Kennedy sometimes finds time to actually go sailing.  He loves to take things apart, and put them (mostly) back together. Last fall, between finding a real job as an engineer, keeping the '78 Chevy and '83 Yamaha running, and building a chicken coop, he found a little time to sail Melges 24 Nationals, F18 North Americans, and C Scow Worlds.  While the "real job" and some iceboating kept the thirst sated through the long, cold Wisconsin winter, as the weather warmed the need to be on the water grew.   Chris headed off to Oakcliff to find out what Long Island Sound has to offer.
Seth Cooley
Seth has an undergraduate degree in Naval Architecture and Marine Engineering from Webb Institute as well as a Master's degree in Yacht and Small Craft Design from the University of Southampton (UK).  With work experience in both boatyards and design offices, it is his ultimate ambition to make high-performance yacht design his career; however, he believes that in order to one day produce a winning design, it is necessary to understand every aspect of sailing and racing.  He is currently in the process of pursuing that understanding, while his theoretical background lends itself well to all yacht racing.
Oakcliff seemed like the logical—and exciting—next step for Seth in his racing pursuits.  He got into racing seriously while at Webb Institute, sailing dinghies with MAISA as captain of the Webb team his final two years.  He soon began campaigning a Laser, participating in national level events.  Seth's yachting resume got a serious jump-start during his year in the UK where he competed in events including the UK Student Yachting Nationals, European/French University Yachting Championships, Cowes Week, and a variety of RORC off-shores, culminating with the 2011 Fastnet.
Rather than fly home from the UK at the conclusion of his studies, Seth spent some time racing and doing deliveries through the Med, Atlantic, and Caribbean.  He participated in the Rolex Middle Sea Race, Caribbean 600, and his best result so far: a win on handicap in the Maxi Transatlantic Cup.
Madeline Gill
Madeline grew up sailing at Cedar Point YC in Westport, CT – coming from a large family of sailors and naval architects (as well as a few siblings a bit less enthusiastic about the water). She learned to race in Vanguard 15s in 1996 and has loved the competitive nature of the sport ever since.  She recently graduated from the University of Virginia with a degree in Environmental Sciences.  During her four years in Charlottesville, she raced with the school's sailing team and had the opportunity to study abroad in Sydney, Australia where she enjoyed many more sailing opportunities.  As a newly inducted member of the American work force, millions of opportunities were thrown her way; all of which she turned down to spend another summer sailing on Long Island Sound.  She is excited to sail with Oakcliff and hopes to learn a lot.
Ivy Binns

Born and mostly raised in the San Francisco Bay Area, Ivy grew up swimming, surfing, camping, overlanding, fencing, kayaking, and canoeing in California and Nevada.  It wasn't until high school that she joined Peninsula Youth Sailing Foundation (http://pysf.us/) a high school sailing team, sailing FJs, 420s, Lasers, 29ers, and J24s in San Francisco Bay, and racing FJs all over California.  She also participated in the Spaulding Youth Boatbuilding Apprentice Program (http://www.spauldingcenter.org/youthprogram.html) learning how to build a wooden Catalina 16.5.
After graduating high school, Ivy then took a gap year where she interned at 826 Valencia, a youth writing center (http://826valencia.org)and San Francisco's only independent pirate supply company (http://826valencia.org/store/) and raced J105s in SF Bay.  She's excited to learn as much as she possibly can about sailing and being a professional in the sport.